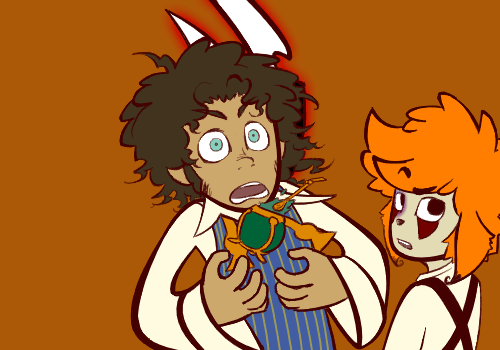 Muse:
Woah, a fellow tea drinker? Gotta trilly soon, but you down for a hot cup first?
Mate:
God, yes! I would LOVE some tea! Seriously, I can't get enough of that tea! Man, great stuff! Ahahahahaahahaaaahaha oh, wow!
Mate:
SHHHHHH-- this is THE Muse we're talking about!
Muse:
You coming, little man?
Mate:
SHHH-- no, no, no! Are you out of your mind? Don't turn him down!
Muse:
Yeah, man. Fresh mint and everything. You sure?
Jasz:
Yeah, I mean, all grudges aside, I don't really think this is the time to relax. As much as I'd like to mess around sipping drinks and passing out black eyes, I just got here, and that old buzzard was supposed to fill me in on what the hell is going on.
Muse:
Hm.
Well, welcome to Phantasmagoria. But, ya aughtta consider tagging along, jack, 'cause we could pow-wow over a piping hot cup with a side order of straight up facts. You down?
Jasz:
Two birds, one stone? Ok.
Muse:
It's settled, then! Mammy, if you'd be so kind, let's please stitch these stiffs up and roll on out.
Mate:
oh my god oh my god oh my god oh my god oh my god