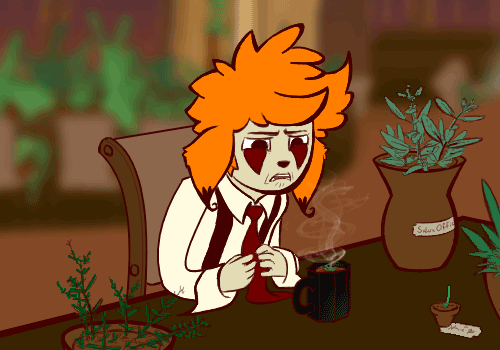 Jasz:
UH.
I was just,
uh.
SO. How about that dream logic?
Muse:
Yeah, man, good idea. Take it from the top, Silv.
Silver:
That's not the top. Dream logic is not the top.
Muse:
Then take it from the real top, man.
Silver:
Sigh.
Recapping what I explained earlier, prior to your impromptu nap, this is Phantasmagoria. Essentially, this is the plane in which one's consciousness retires to when the physical form is incapable of sustaining it. In layman's terms, its--
Mammy:
It's where ya'll go when you sleep or die.
Silver:
Ah, an expert.
Oh, by all means, carry on. I'll be in my study.
Mate:
No, don't!
Two.
cup.
minimum.

Muse:
Little man has a point.
Silver:
Oh, for fuck's sake.
Muse:
Out with it, man. Besides, you're not gonna rot away in that room anymore. You're not going anywhere no matter how much tea you guzzle, Jack. Now, make with the hard spiel.
Silver:
Muse so help me--
Fine.
You come here when you sleep. You sometimes come here when you die. When you sleep, you can either be placid, or, like our friend here, lucid.
Silver:
The Placidus thingy.
With the Placidus in place, a dreamer is incoherent, or "placid", thereby subjecting them to a more conventional experience. An experience that so many lucky living specimens are able to undergo night after night. Nonchalantly meandering about their silly little dreams, spouting garbled nonsense, and freely tossing aside all reason to render their pointless flights of fancy. Meanwhile, we Phantasmagorians toil away at their every beck and call. We see to their safety like a mother tending to a newborn, cleaning up after completely helpless sacks of shit that dribble gibberish at every turn without a single care to be had.
Mate:
Wow, thanks, asshole.
Silver:
Oh, what are you even on about, you're moderately better than them. I would compare a lucid dreamer to a child, given that analogy.
Mate:
And you, personally, would be what? The diaper?
Silver:
No, the actual sack of shit is a representation of the... je ne sais quoi... "air" about placid dreamers.
Mate:
So what you're saying is, placid dreamers are worthless trash, and lucid ones are needy little brats.
Silver:
Do not put words in my mouth.
We're straying from the topic. Moving on.