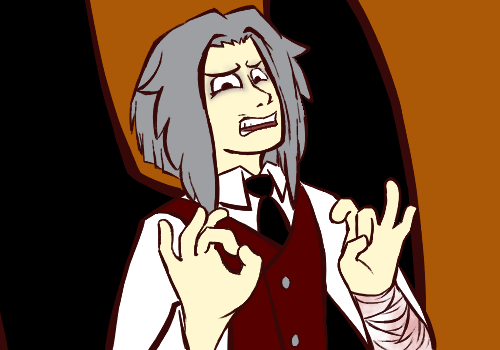 Silver:
Would it help if I said it wasn't my intent to cudgel his face?
Mammy:
Let me get this straight.
You flung
a ring of keys
at
a
kid's
face.
Silver:
...Technically his right eye. More or less...?
Mammy:
Aw hell naw.
Naw.
You can find yourself another nurse.
I'm done.
Mammy:
No baby, I'm sorry. I gotta go cool off. Tha's just not ok. Naw. Hell fuckin naw. Fuck this shit, fuck your honesty, fuck you.
Silver:
Honestly, it wasn't that bad of a lump! And, truthfully, it was a necessary evil. Please hear me out.
Mammy:
Ya'll tryin' my last nerve.
Silver:
Listen,
Mammy,
do you honestly think that you can turn a blind eye to someone in need?
Mammy:
Bitch, you ain't in need. Ya'll arredy distractin' yerself from that wound. Out of mind, out of existence.
Silver:
--OH GOD AUUUGHHH WHY DID YOU REMIND ME?!
Mammy:
Look, I'll level with you. If you promise to do good by that poor kid, I'll help you straight up defrag that shit. Deal?
Mammy:
Good. An' if I catcher bitchass assailing any more chillen I'll personally see to it that ya'll feel erry wakin' moment of anguish you ever feel from here on out.
You'll feel it as if it were
real
motherfuckin
life.