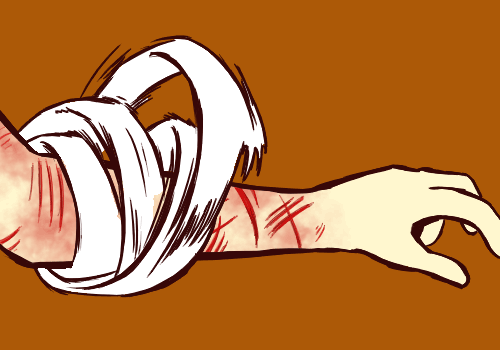 Mammy:
Sweet baby Jesus! Honey! Did you try to juggle chainsaws or something?!
We're gonna need more wrappin's up in this bitch.
Silver:
No. I was carrying a rabid cur.
Silver:
When have I ever lied? Perhaps you are mistaking lies for sarcasm.
I digress, Muse assigned me to a young Canis Phantasmagorian.
Silver:
And? The little whelp gouged his way clear through my attire in a fit of night-terror fueled flailing, that's what.
Mammy:
Oh, the poor dear!
Mammy:
That little baby's having void nightmares!
Silver:
An astute and well-weighed observation. Yes, let us focus on a child's sleeping habits rather than a series of severe lacerations. I rest assured knowing that everyone's priorities are in order.
Mammy:
Hold it, I was just making a comment, not derailing a whole conversation. That's your shtick. Besides, you're the one who was concerned over a bit of shirt sleeve.
Silver:
Sentimental value is of higher priority.
Mammy:
Maybe for you, but some of us prefer to live in the now.
Wait.
No.
Nope, not going any further off track. Get'cher facts straight, 'cause I don't have the patience to verbally duel with you.
Silver:
Fair enough.
Case in point, the child passed out, I provided a lift Manor-wards for his initiation, he apparently decided to accost the forearm keeping him aloft, resulting in this pleasant visit.
Mammy:
Well, thats no g--
Back up!!
You dropped a child mid-fucking-air?!
Silver:
Please. I had a key ring.
Silver:
....I... oh.
Kind of... hurled it at him.
Silver:
He was about to bedlamize a dream instance with an active Dreamer still inside!!
Mammy:
Honey! I'm disappointed!