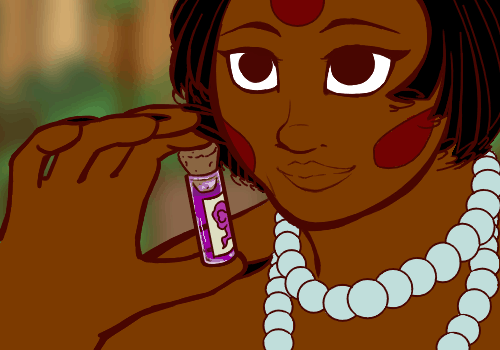 Mammy:
Wait, take my spare logic elixir with you, sweetie. It's not much, but should help getcha out of a tight spot.
Jasz:
What's in it? Does it taste like real medicine?
Mammy:
Just toss it at your feet if you need to get out quick. Rule of thumb: you're always safe in Phantasmagoria, but as soon as you get in a dream, you're always at danger of falling into the void. If some asshole starts to bedlamize your instance, get the fuck out ASAP.
Jasz:
But what about the dreamer?
Mammy:
They'll be fine, they just wake up. You on the other hand got nowhere to wake up to, so you'll void out. We can't have that, now can we?
Mammy:
Course not! You're young, you got lots of time left. Wouldn't want to spend it all in dead silence and pitch black, would you?
Jasz:
Geez, no. Thanks, I'll be careful.
Mammy:
I don't wanna see you come back in this infirmary again, either, you hear?
Silver:
Ah, does anyone have the time?
Mate:
Wait, so thats....
.....hmm.....
...Midnight ART?! I only get another 7 hours!
Muse:
Dang, kid. You trying to stay up to greet the milk man or what?
Mate:
Of course not, I go to bed at 19 ART. Um, 22 UTC I mean?
Muse:
Criminy! You're sleeping your life away, son!
Muse:
No, no, stop doing this. Couldn't be good for your health, man.
Sleeping all day and night is not ok, ok?
Muse:
Right? That's bonkers.
Jasz:
No, I mean the time.
Jasz:
Noooo, back up. I mean, what's PTC?
Silver:
It's always night here, so time is told by where it's midnight on earth by using PTC, Phantasmagorian Time Coordinate offset.
Jasz:
Ok, fine, but why midnight, then?
Silver:
When are people asleep?
Jasz:
....Ok, but why does... that...
Jasz:
No wait, I think I get it. Because we're meeting up with sleeping people, so you want to know who's sleeping. Right?
Silver:
Come to think of it, we need to get fresh keys on our way out. You see, since the only key on your ring that is valid around this time of night is the kid's. I hadn't accounted for how... succinct this introduction would be.
Jasz:
So, to the front desk, then. That makes sense. Thanks.