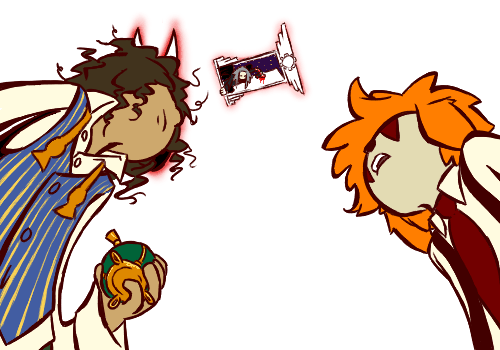 Mate:
Oh, you have some keys? That's perfect! Could you Guide us out of here? I'd really like to hop into a more populated dream instance or something.
Silver:
My intent was to bring that troublesome one, next to you, directly to Muse Manor for a formal briefing and initiation, but it seems you two will be stranded here until I can arrange for another Avian Phantasmagorian to serve as a Guide.
Jasz:
Wait!
Why's that? I don't want to be here, it's so quiet, and stale, and just... weird here! And why is that, anyway?! There's no echo, it's completely white, and what even is all of this patchwork stuff over here on the ground? Is this even ground? I can't even tell!
Nothing's making any sense!!
Silver:
Child. As much as I would enjoy to haul your shockingly significant weight for the remainder of my trip back, I can't, due to the severe lacerations which I have you to thank for. As for this area, I will reiterate what that young one said-- this is a dream. I will be able to elaborate later, at the Manor.
Jasz:
...Uhm. Maté, do you understand anything he just said?
Mate:
Sir, up there! Do you suppose it's the Lacuna Effect? He's... oh, wait. What is your name, anyway?
Jasz:
Oh, whoops, sorry. I'm Cläus Scott Joplin, but you can call me Jäsz if you want.
Mate:
Ok,
And your name, Sir?
Silver:
This is all quite unnecessary, I really should head back before the blood loss gets to me.
Mate:
Ok... well, Jäsz is having a hard time understanding. It might be Lacuna interference, which is a bigger issue to worry about.
Silver:
No.
I'm afraid the proper terminology you're looking for would be
"lexical gap." Furthermore, no, that is not the case.
You obviously know next to nothing on the subject to begin with-- it's perfectly normal for a few words here and there. It's only a problem when all words are unintelligible. I'm positive that the words are parsing properly, but he simply cannot comprehend them due to sheer illiteracy. He's completely incompetent. I digress,
Jasz:
Oh for the love of--
Ok, now it just sounds like you're making fun of me.
This is really peeving me off, ok?! Just--
ARGH. Can't anyone just talk straight?!
You! Come down here and just explain what's going on!