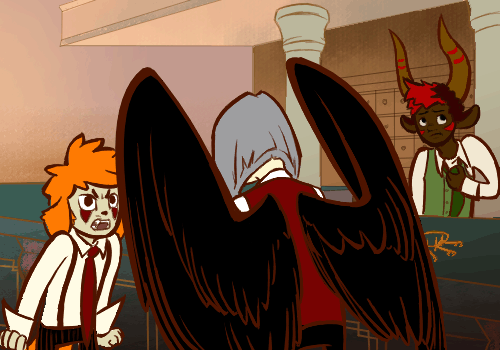 Silver:
Now, open the door so we can locate the dreamer and begin your crash course.
Jasz:
you smug sonnOVABITCH
Jasz:
NEWSFLASH, JACKASS! THE WORLD'S TRASHED.
Mate:
Oh my god, you two—
Jasz:
You wanna act all high and mighty, like some king up here in your fancy little dream world. Well, wake up, asshole! There's real people out there!
They're living, and dying, and trying to make the best of it. But you want to sit here and act like it's all beneath you?!
No, let ME enlighten YOU. So you're apparently lucky enough to miss out on it all.
So fucking what!

do you honestly think it's not your responsibility to help others, or at least to even CARE enough to be aware?
I bet you don't even know about the fallout plaguing the west.
Here's a history lesson, everything was torn up ages ago.
It's ruined!
Everything is ruined!
I fly across deserted wastelands, passing over rotten skyscrapers, trying to keep people connected. You think I'm stupid, but at least I'm better informed than your sorry ass, sitting in this little fantasy world of yours, saved from having to ever even know. Your great-great grandparents must be spinning in their graves.
How could anyone not care?